Preventing Problems Before They Start
The health of your teeth and mouth is very important to the well-being of your entire body, and while routine brushing and flossing at home is necessary to keep your smile looking its best, visiting your dentist for a comprehensive exam and cleaning is essential. We want to make sure that you get the most out of your office visits, and that your teeth stay healthy for life! The American Dental Association recommends that you visit your dentist every six months to ensure your teeth stay healthy and your smile stays beautiful.
Your Exam and Professional Cleaning
During your exam, your dentist will thoroughly examine your teeth and gums for signs of tooth decay, gum disease, and other health problems. Your dentist may also want to take X-rays to see what is happening beneath the surface of your teeth and gums. The digital images will help us discover dental issues not visible to the naked eye.
Visiting your dental hygienist is an important part of maintaining good oral health. During your regular checkup, your hygienist will:
Check for any problems that you may not see or feel
Look for cavities or any other signs of tooth decay
Inspect your teeth and gums for gingivitis and signs of periodontal disease
Provide a thorough teeth cleaning-removing any plaque, tartar & staining
Give you homecare tips & recommend certain products
Choosing the Right Toothpaste and Toothbrush
From toothpaste and mouthwash to toothbrushes and dental floss, it's important to choose the right products for your smile. Keep in mind that when you're looking for a new toothpaste or toothbrush, be sure to choose one that has been approved by the American Dental Association (ADA). Your dentist can also help by recommending certain dental products for use at home.
Learn More
Did you know that at birth, people already have 20 primary (baby) teeth that begin erupting after six months, and that by age 21, there are no more primary teeth, and all 32 permanent teeth have erupted?
Getting to know your teeth can be fun and educational!
Anatomy of a Tooth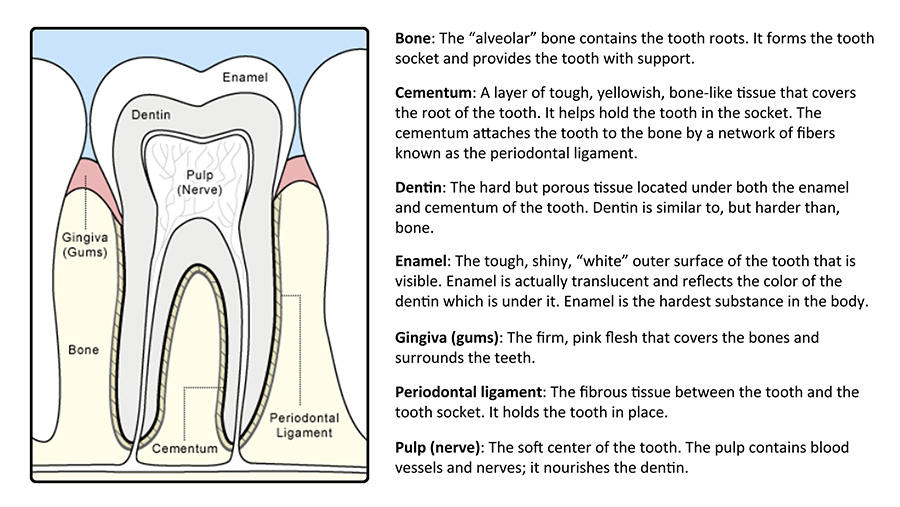 Tooth Eruption Chart